What can the study of genes, isotopes and artefacts tell us about the movements of European Bronze Age people?
2018. 12. 22
Held between 13-14 December 2018, an international conference in Vienna titled Genes, isotopes and artefacts – How should we interpret the movements of people throughout Bronze Age Europe? attempted to formulate new responses to the questions raised in the entry's title. The meeting was organized by the Institute for Oriental and European Archaeology (Institut für Orientalische und Europäische Archäologie) at the Austrian Academy of Sciences, the University of Durham and the Ex-Space project (Marie Skłodowska-Curie Actions), with the co-operation of Claudio Cavazzuti, Katharina Rebay-Salisbury and Ben Roberts. The topic of the interdisciplinary meeting suggests that nowadays not only the analysis of the shapes and raw material of archeological artefacts, but the results of isotope and DNA testing of human remains are important factors in providing new information on prehistoric mobility (see our earlier summaries: Evidences of Bronze Age Mobility Part 1 and Part 2). Invited researchers have contributed to the knowledge of the processes behind the change of European Bronze Age material cultures by interpreting the results of several disciplines and using the most modern testing methods.
In addition to interregional population genetic studies, lectures on prehistoric epidemiological traits, stable isotope and kinship relations of specific European regions or social groups as well as case studies analyzing the material with new methods were included in the programme. Our research team presented the latest results of bioarchaeological and metallurgical research.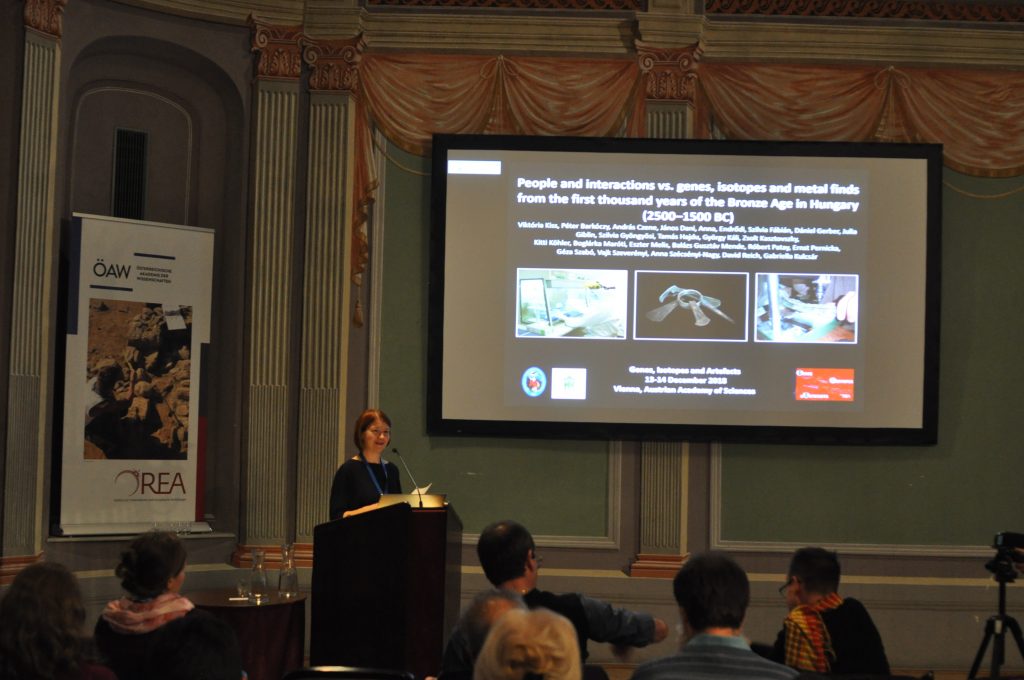 We presented the results of archaeological, archaeogenetical, stable isotope and paleoanthropological studies of human remains, as well as copper and bronze artefact analyses from the western and central regions of the Carpathian Basin between 2500 and 1500 BC by discussing three case studies. The first one included the Bell Beeaker burials from the vicinity of Budapest (this unique pottery type appeared in distant parts of Europe around 2500-2200 BC), while the other two introduced the research results of individuals buried in Hungarian Middle Bronze Age (2000-1500 BC) settlement pits.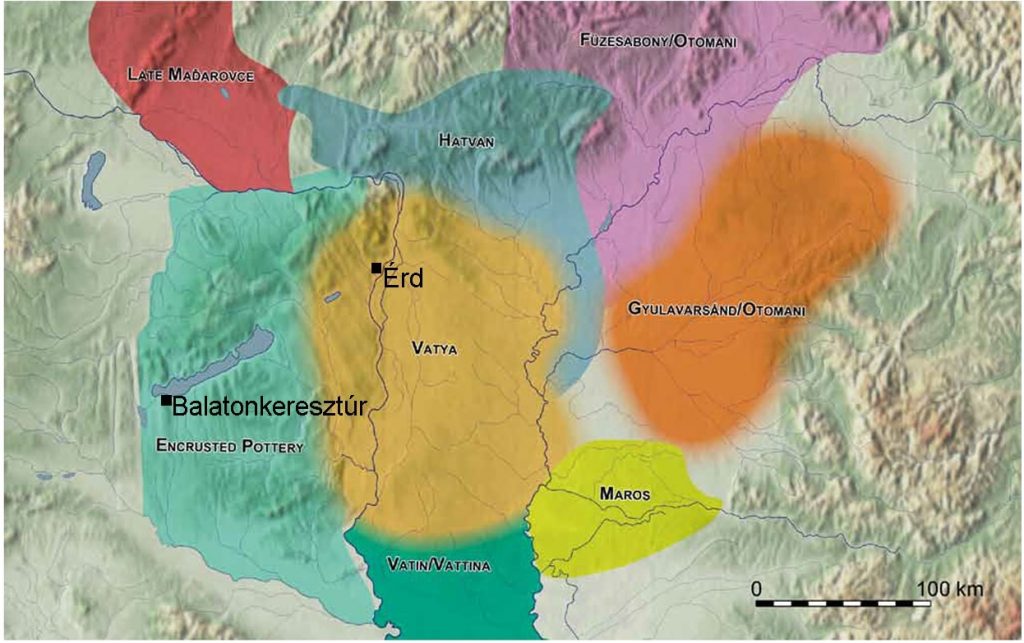 The spread of the Middle Bronze Age cultures in Hungary with the indication of the case studies presented in the lecture
(After: P. Fischl et al. 2013, Fig. 2)
Thanks to the conference organizers, the Momentum and NKFI research funds and the Bolyai Research Scholarship, several members of our research team could participate at his very successful international meeting.
We would also like to thank all the co-authors for the joint achievements and the performance!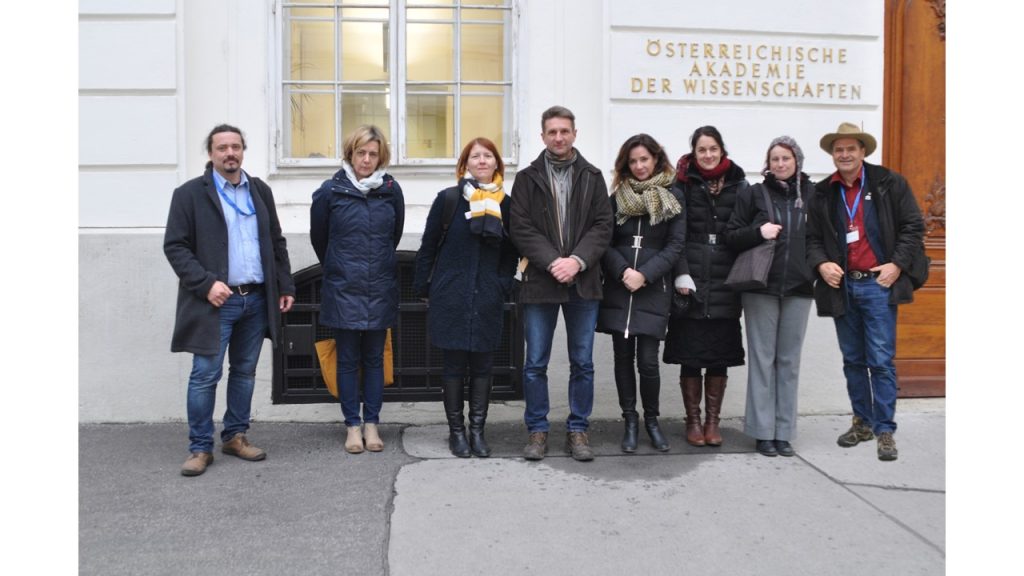 People and interactions vs. genes, isotopes and metal finds from the first thousand years of the Bronze Age in Hungary (2500-1500 BCE)
Kiss, V.1, Barkóczy, P.2, Czene, A.3, Dani, J.4, Endrődi, A.5, Fábián, Sz.6, Gerber, D.1, Giblin, J.7, Hajdu, T.8, Káli Gy.9, Kasztovszky, Zs.10, Köhler, K.1, Maróti, B.10, Melis, E.1, Mende, B. G.1, Patay, R.11, Pernicka, E.12, Szabó, G.13, Szeverényi, V.4, Szécsényi-Nagy, A.1, Reich, D.14, Kulcsár, G.1
1 Institute of Archaeology, Research Centre for the Humanities, Hungarian Academy of Sciences
2 University of Miskolc, Hungary
3 Salisbury Ltd.
4 Déri Museum, Debrecen, Hungary
5 Budapest Historical Museum
6 Hungarian National Museum
7 Quinnipiac University, Hamden, USA
8 Department of Biological Anthropology, Institute of Biology, Faculty of Science, Eötvös Loránd University, Budapest, Hungary
9 Wigner Research Centre for Physics, Hungarian Academy of Sciences
10 Centre for Energy Research, Hungarian Academy of Sciences
11 Ferenczy Museum Centre, Szentendre, Hungary
12 Curt Engelhorn Center for Archaeometry gGmbH, Mannheim, Germany
13 Wosinsky Mór Museum, Szekszárd, Hungary
14 Harvard University, USA
References
P. Fischl, K., Kiss, V., Kulcsár, G., Szeverényi, V.:
Transformations in the Carpathian Basin around 1600 BC. In:
M.
Meller,
F.
Bertemes,
H.-R. Bork
&
R.
Risch,
eds
. 1600
–
Kultureller Umbruch im Schatten des Thera-Ausbruchs? 4. Mitteldeutscher Archäologentag vom 14 bis 16 Oktober 2011 in Halle (Saale).
(Tagungen des Landesmuseums für Vorgeschichte Halle 9.) Halle
: Landesamt für Denkmalpflege und Archäologie Sachsen-Anhalt, Landesmuseum für Vorgeschichte
, 355
–
371.
Olalde, I., Brace, S., Allentoft, M. E., Armit, I., Kristiansen, K., Booth, T., Rohland, N., Mallick, S., Szécsényi-Nagy, A., Mittnik, A., Altena, E., Lipson, M., Lazaridis, I., H arpens, T.K., Patterson, N. J., Broomandkhoshbacht, N., Diekmann, Y.,Faltyskova, Z., Fernandes, D. M., Ferry, M., Harney, E., de Knijff, P., Michel, M.,Oppenheimer, J., Stewardson, K., Barclay, A., Alt, K. W., Liesau, C., Ríos, P.,Blasco, C., Vega Miguel, J., Garcia, R-M., Fernández, A. A., Bánffy, E., Bernabò-Brea, M., Billoin, D., Bonsall, C., Bonsall, L., Allen, T., Büster, L., Carver, S.,Castells Navarro, L., Craig, O. E., Cook, G. T., Cunliffe, B., Denaire, A., Dinwiddy, K. E., Dodwell, N., Ernée, M., Evans, C., Kuchařík, M., Farré, J. F., Fowler, C.,Gazenbeek, M., Pena, R. G., Haber-Uriarte, M., Haduch, E., Hey, G., Jowett, N.,Knowles, T., Massy, K., Pfrengle, S., Lefranc, P., Lemercier, O., Lefebvre, A.,Martinez, C. H., Galera Olmo, V., Ramirez, A. Z., Maurandi, J. L., Majó, T.,McKinley, J. I., McSweeney, K., Mende, B. G., Modi, A., Kulcsár, G., Kiss, V., Czene, A., Patay, R., Endrődi, A., Köhler, K., Hajdu, T., Szeniczey,T., Dani, J., Bernert, Zs., Hoole, M., Keating, O.C.H., Veleminsky, P., Dobeš, M., Candilio, F., Brown, F., Fernandez, A.F., Krause, J., Herrero-Corral, A-M., Tusa, S., Carnieri E., Lentini, L., Valent, A., Zanini, A., Waddington, C., Delibes76, G., Guerra-Doce, E., Neil, B., Zanini, A., Waddington, C., Brittain, M., Luke, M., Mortimer, R., Desideri, J., Besse, M., Brucken, G., Furmanek, M., Hałuszko, A., Mackiewicz, M., Rapin, A., Leach, L.n, Soriano, I., Lillios, K. t., Cardoso, J. L., Parker Pearson, M., Włodarczak, P.,Price, T. D., Prieto, P., Rey, P.-J., Risch, R., Rojo Guerra, M. A., Schmitt, A.,Serralongue, J., Silva, A. M., Smrčka, V., Vergnaud, L., Zilhão, J., Caramelli, D.,Higham, T., Thomas, M.G., Kennett, D.J., Fokkens, H., Heyd, V., Sheridan, A.,Sjögren, K.-G., Stockhammer, P. W., Krause, J., Pinhasi, R., Haak, W., Barnes, I.,Lalueza-Fox, C., Reich, D.:
The Beaker Phenomenon and the Genomic Transformation of Northwest Europe.
Nature
; doi: 10.1038/nature25738