Beszámoló az Európai Régészek Szövetségének 28. éves konferenciájáról
2022. 09. 16
2022. augusztus 31 és szeptember 3. között Budapest adott otthon a 60 ország régészeit tömörítő, European Association of Archaeologists 28. éves konferenciájának, két év után ismét személyes részvétellel. A hibrid rendezvény házigazdája az Eötvös Loránd Tudományegyetem volt, a Magyar Nemzeti Múzeummal és a Várkapitányság Nonprofit Zrt.-vel együttműködésben.
Utoljára 1876-ban, a VIII. Ősrégészeti és Embertani Világkongresszus alkalmával irányult ehhez hasonló mértékű szakmai figyelem Budapestre és Magyarországra. A 146 évvel ezelőtti világkonferencia alkalmával megnyílt kiállításon – amelyre a Magyar Nemzeti Múzeum A régészeti csudák országa – Országimázs 1976 című kiállítással emlékezik – több mint 20 ezer kiállítási tárgy volt látható 48 vitrinben. Ezek között 200 tárgy a Tariczky Endre által Tiszafüred-Ásotthalmon feltárt bronzkori leletekből származott; a lelőhely elemzésével kutatócsoportunk is foglalkozik egy 2020-ban indult együttműködés keretében. A témáról legutóbb a BORBAS10 konferencián számoltunk be.
Az Európai Régészek Szövetségének idei, négynapos találkozóján személyesen 1800-an vettek részt, 400-an pedig online kapcsolódtak be a programba. Hat fő témában, 194 szekcióban, többezer előadáson és poszteren mutatták be legfrissebb kutatási eredményeiket európai és Európán kívüli régészek. Az idei rendezvény mottója a reintegráció volt, s a kiemelt témák között szerepeltek a Kárpát-medence régészete, az új módszerek és kihívások a 21. századi régészetben, valamint a klímaváltozás és társadalmi hatásainak kutatása a múlt társadalmaiban.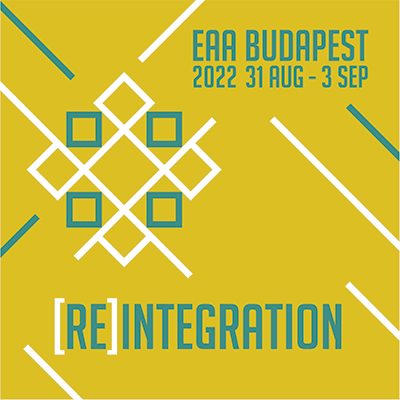 A Régészeti Intézet kutatói számos szekcióval és előadással járultak hozzá a nemzetközi tanácskozáshoz. A bronzkorral foglalkozó munkatársak négy szekció szervezésében, 11 előadás és egy poszter készítésében vettek részt. A Kr. e. 3. évezred fontos változásának, a kurgánok és a hozzájuk köthető Yamnaya népesség kelet- és délkelet-európai megjelenésének kutatásába egy szekciószervezéssel (16.) és egy előadás társszerzőséggel (Pető et al.) kapcsolódott be intézetigazgatónk, Kulcsár Gabriella.
A bioarchaeológiai kutatásaink egyik fő iránya a régészeti csontmaradványok stabilizotópos vizsgálata, amelynek révén a bronzkori emberek és állatok táplálkozásába és mobilitásába nyerhetünk bepillantást. A módszerről és értelmezési lehetőségeiről szervezett szekciót Kiss Viktória lengyel és olasz kollégákkal (426.), amelyen három, Kárpát-medencei esettanulmányokkal foglalkozó előadásban társszerzőként vettünk részt (Cavazutti et al., Giblin et al., Hajdu et al.).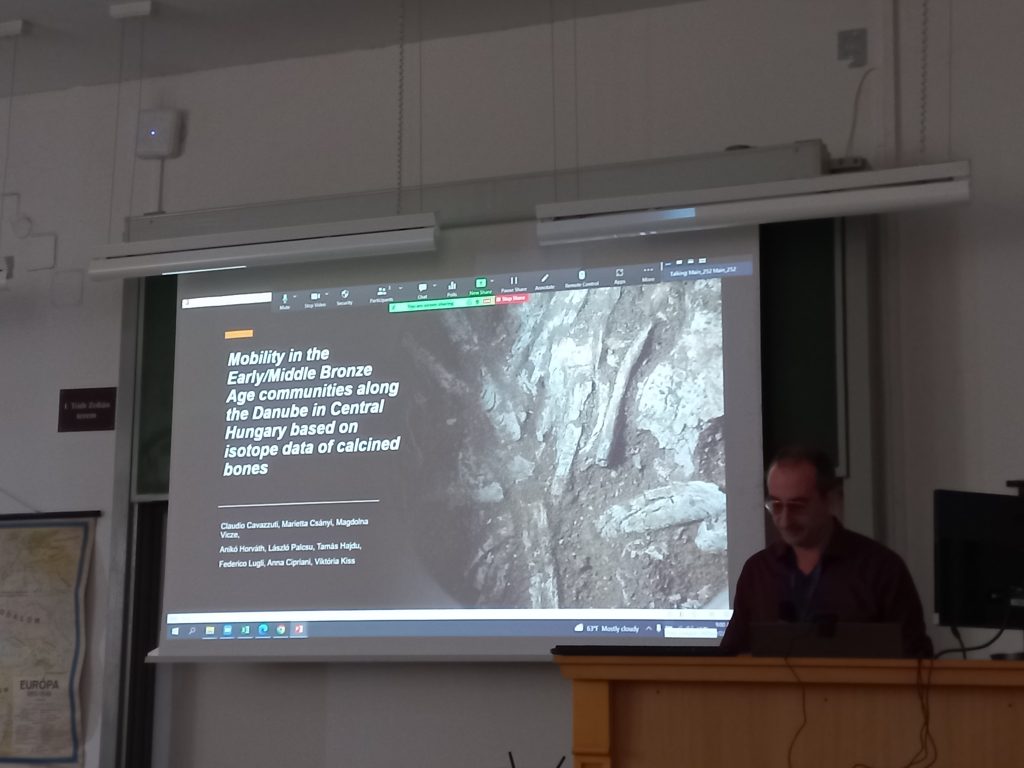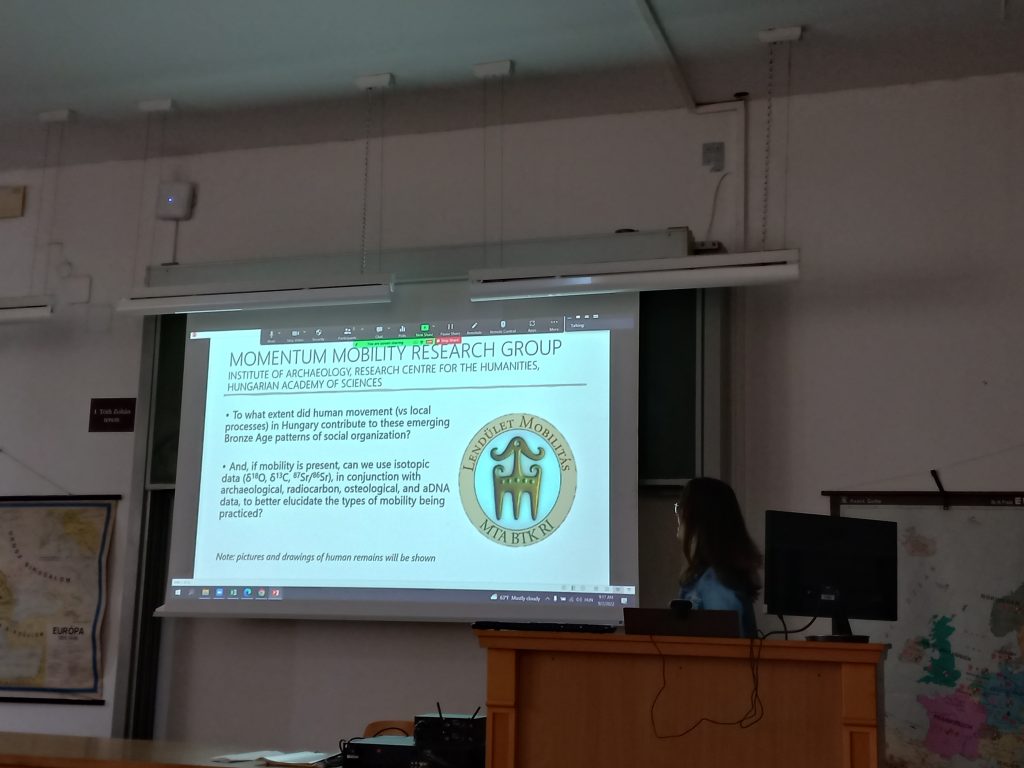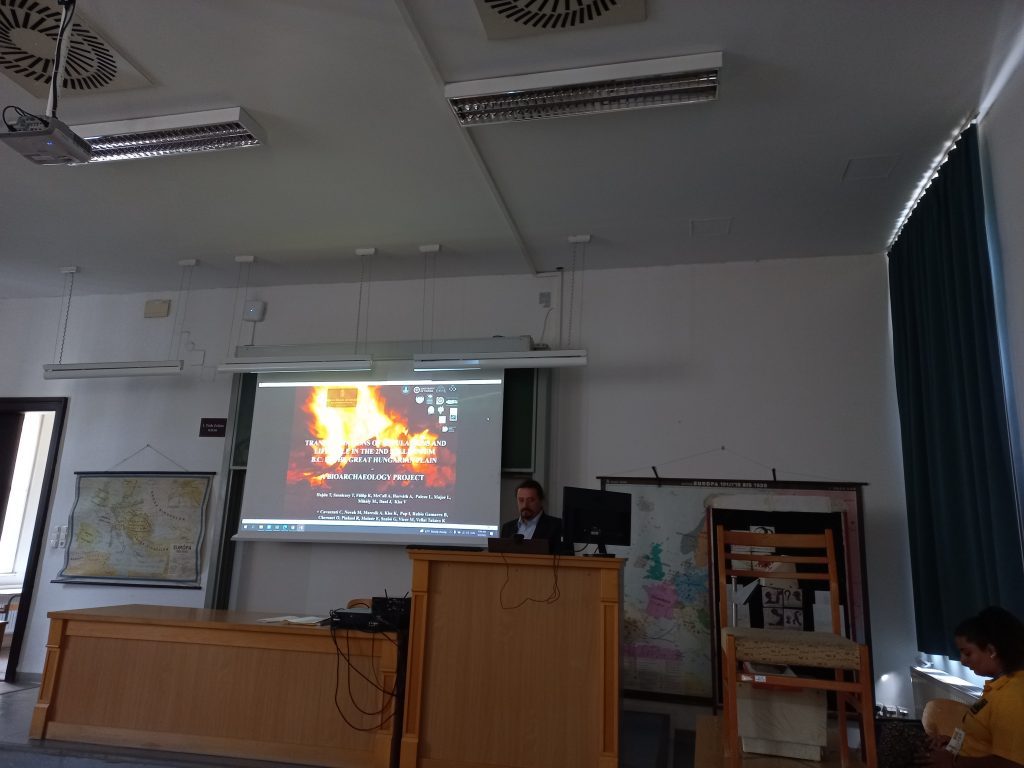 A birkatartás és gyapjúkészítés Kárpát-medencei elterjedését a bronzkorban százhalombattai és Benta-völgyi leletanyagokon keresztül intézeti munkatársak svéd és amerikai társszerzős előadása mutatta be (Bergerbrant et al.).
Az ELTE TTK Embertani Tanszékének munkatársai révén klasszikus embertani és paleopatológiai kutatásokba is bekapcsolódhattunk két előadásban (Gémes et al., Szeniczey et al.) és egy poszterben (Gémes et al.) való részvétellel.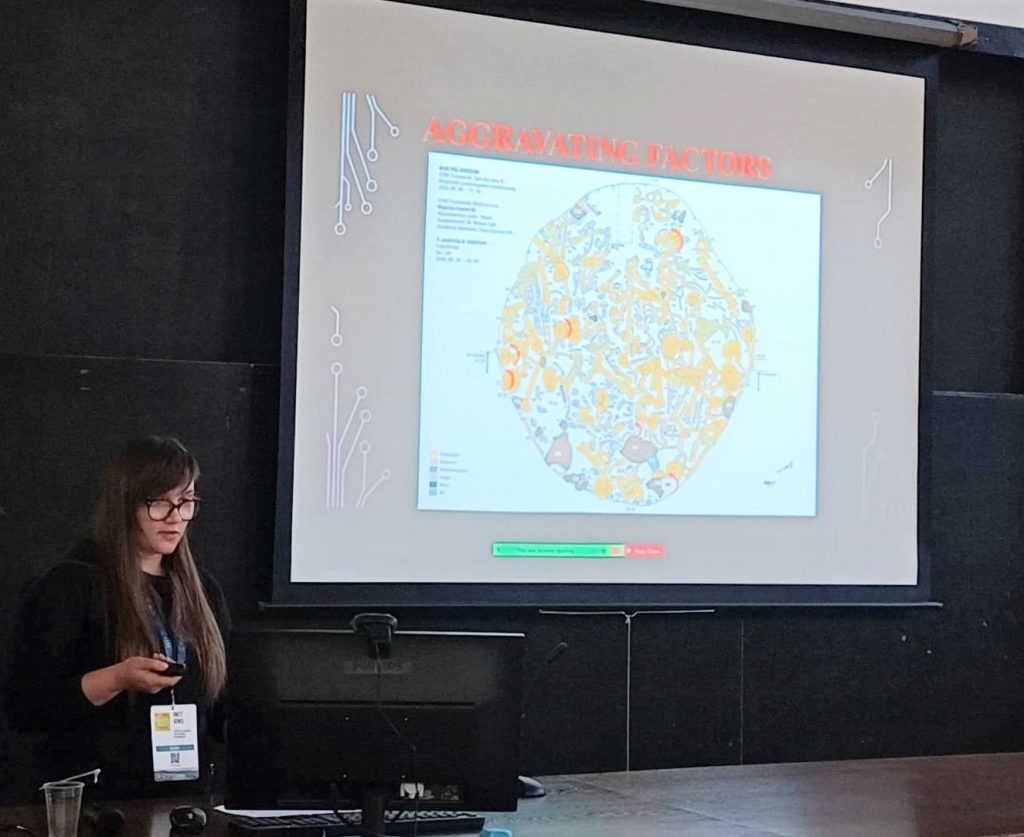 Fiatal kutatónk, Fülöp Kristóf előadásában kísérleti régészeti módszerekkel a bronzkori hamvasztásos temetkezések maradványain bekövetkező változásokat elemezte.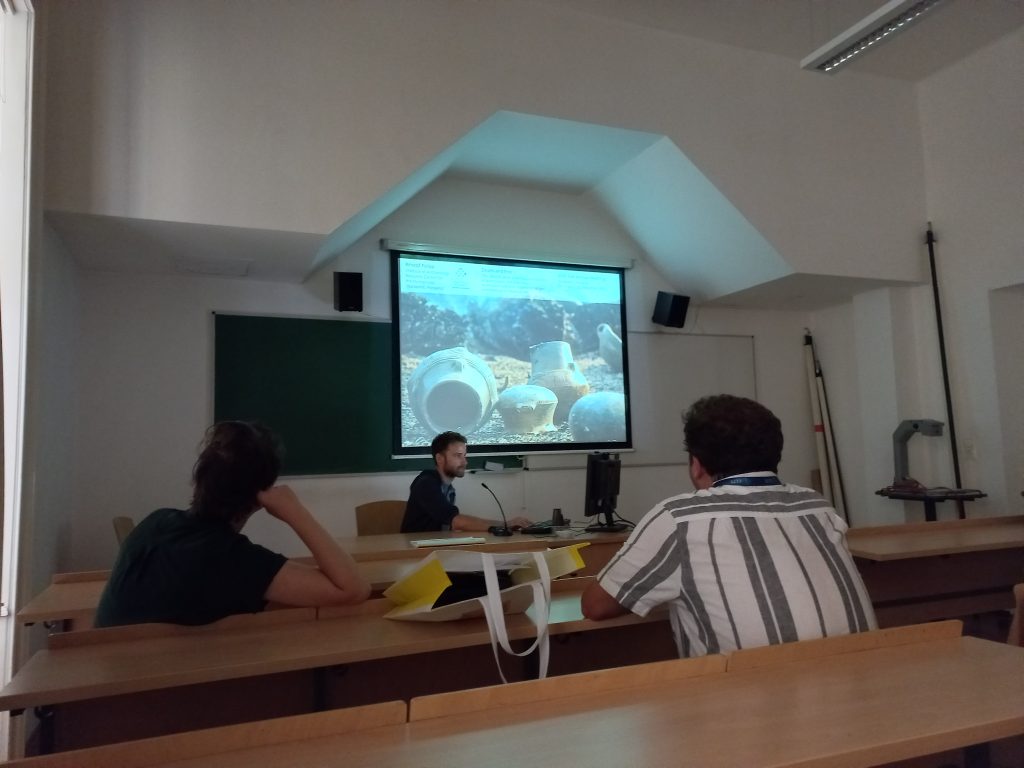 Lengyel és osztrák kollégákkal a nők szerepéről és tevékenységéről a neolitikumtól a vaskorig szerveztünk szekciót (384., Kulcsár Gabriella és Melis Eszter). A témában Melis Eszter előadásában a nyugat-dunántúli, középső bronzkori csontvázas temetkezések alapján vizsgálta a nők szerepét társadalomrégészeti módszerekkel.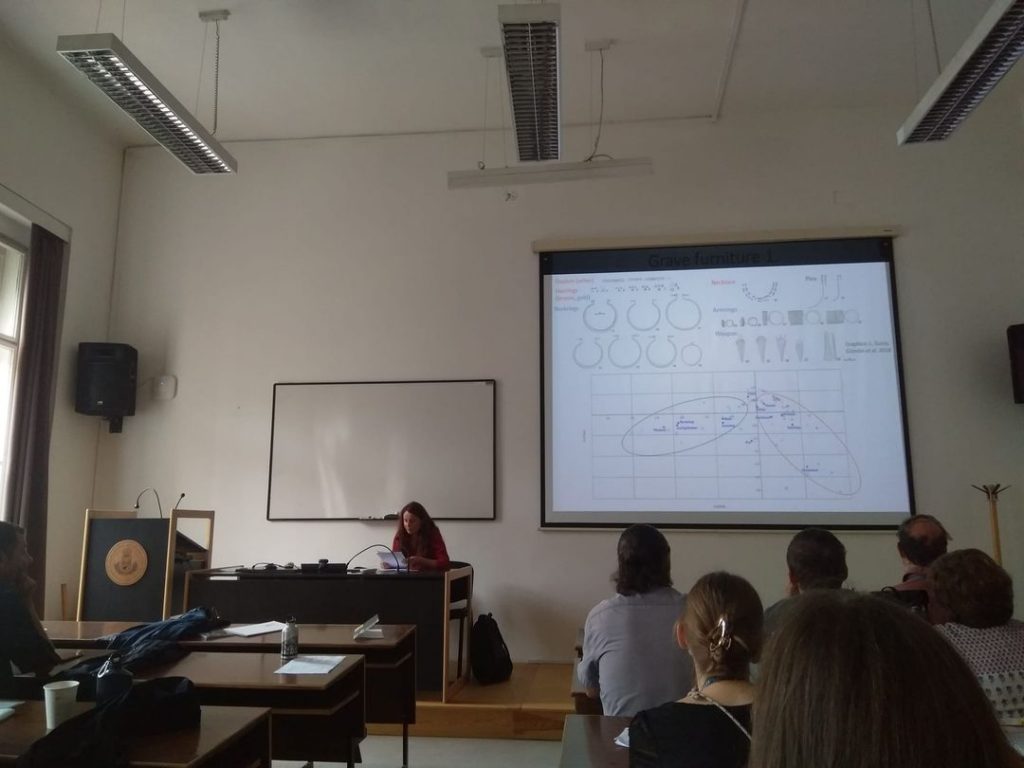 A településrégészeti kutatásokhoz kapcsolódóan, Szabó Nóra fiatal kutatónk egy középső bronzkori erődített telep roncsolásmentes kutatásának esettanulmányát mutatta be.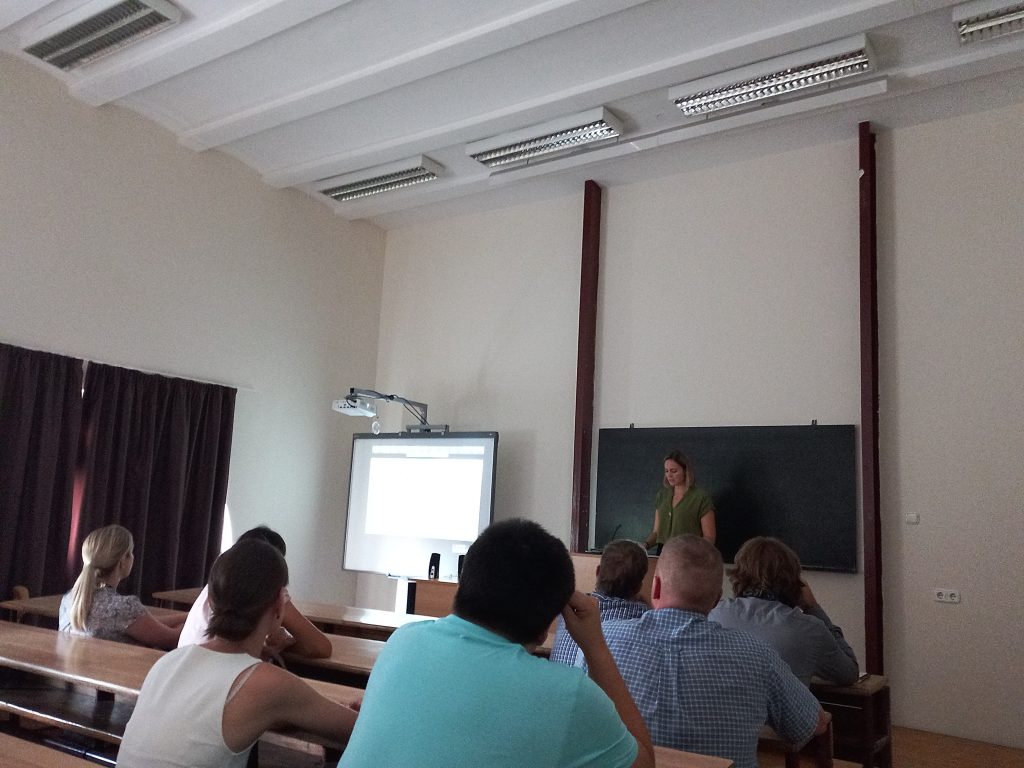 P. Fischl Klára társszervezésében háztartásrégészeti szekció (154.) valósult meg, amelyen társszerzős előadásukban a százhalombattai és borsodivánkai telltelepek padlóin megfigyelhető 4000 éves háztartási tevékenységeket vizsgálták (Röpke et al.).
Kiss Viktória – Melis Eszter
Szekciószervezés:
16. The Dawn, Apogee and Modern Demise of Kurgans in Southeast and East-central Europe. Szervezők: Pető, Ákos (Hungarian University of Agricultural and Life Sciences)- Heyd, Volker (University of Helsinki, Department of Cultures, Archaeology) – Dani, János (Déri Museum, Debrecen) – Kulcsár, Gabriella (Eötvös Loránd Research Network, Research Centre for the Humanities, Institute of Archaeology)
154. Towards an Archaeology of Household Practices – Current Archaeological and Scientific Contributions. Szervezők: Kienlin, Tobias (Institut für Ur- und Frühgeschichte, Universität zu Köln) – Fischl, Klára (University of Miskolc) – Kovács, Gabriella (Hungarian National Museum, Budapest) – Röpke, Astrid (Institut für Ur- und Frühgeschichte, Universität zu Köln) – Pető, Ákos (Szent István University)
384. Women's Status and Agency in the Neolithic and Metal Ages of Central Europe. Szervezők: Jaeger, Mateusz (Adam Mickiewicz University in Poznań, Institute of European Culture) – Kulcsár, Gabriella (Institute of Archaeology Research Centre for the Humanities) – Stróżyk, Mateusz (Poznań Archaeological Museum) – Rebay-Salisbury, Katharina (Austrian Archaeological Institute, Austrian Academy of Sciences) – Melis, Eszter (Institute of Archaeology Research Centre for the Humanities)
426. From Isotope Ratios to Narratives: Exploring the Ways that Biogeochemical Studies are Impacting Eurasian Archaeology. Szervezők: Kiss, Viktória (Institute of Archeology, Research Centre for the Humanities) – Pospieszny, Lukasz (School of Earth Sciences, University of Bristol) – Cavazzuti, Claudio (Department of History and Cultures, University of Bologna)
Előadások:
Bergerbrant, Sophie (Department of Historical Studies, Gothenburg University) – Giblin, Julia (Department of Sociology and Anthropology, Quinnipiac University) – Vicze, Magdolna (Hungarian National Museum) – Gál, Erika – Kiss, Viktória – Kulcsár, Gabriella (Institute of Archaeology, Research Centre for the Humanities, ELRN) – Kovács, Gabriella (Hungarian National Museum): Bronze Age animal husbandry in Százhalombatta-Földvár and the Benta valley
Cavazzuti, Claudio (University of Bologna; University of Durham) – Csányi, Marietta (Damjanich János Muzeum, Szolnok) – Vicze, Magdolna (Hungarian National Museum) – Horváth, Anikó – Palcsu, László (ICER Centre, Institute for Nuclear Research) – Hajdu, Tamás (Eötvös Loránd University) – Lugli, Federico (Università di Bologna, Alma Mater Studiorum) – Cipriani, Anna (Università di Modena e Reggio Emilia) – Kiss, Viktória (Hungarian Academy of Sciences): Mobility in the Early/Middle Bronze Age communities along the Danube in Central Hungray based on isotope data of calcined bones
Fülöp, Kristóf (Institute of Archaeology Research Centre for the Humanities): Death and fire.The identification and characterization of pyre goods and their use in cremation based on experimental and archaeological observations
Gémes, Anett (Department of Biological Anthropology, Institute of Biology, Eötvös Loránd University, Budapest) – Mester, Edit (Kiss Pál Museum, Tiszafüred) – Dani, János (Déri Museum, Debrecen) – Gál, Erika (Research Centre for the Humanities, Institute of Archaeology, Budapest) – Szeniczey, Tamás (Department of Biological Anthropology, Institute of Biology, Eötvös Loránd University, Budapest) – Kiss, Krisztián (Department of Biological Anthropology, Institute of Biology, Eötvös Loránd University, Budapest; Department of Anthropology, Hungarian Natural History Museum, Budapest) – Szeverényi, Vajk (Déri Museum, Debrecen) – Kulcsár, Gabriella – Kiss, Viktória (Research Centre for the Humanities, Institute of Archaeology, Budapest) – Hajdu, Tamás (Department of Biological Anthropology, Institute of Biology, Eötvös Loránd University, Budapest): Old bones – new possibilities. Human remains from settlement pits at Middle Bronze Age Tiszafüred-Majoroshalom (Eastern Hungary) site
Giblin, Julia (Quinnipiac University) – Dani, János (Déri Múzeum) – Fábián, Szilvia (Hungarian National Museum) – Hajdu, Tamás (Eötvös Loránd University) – Köhler, Kitti – Kulcsár, Gabriella – Melis, Eszter (Institute of Archaeology Research Centre for the Humanities ELRN) – Szabó, Géza (Wosinsky Mór Museum) – Szeverényi, Vajk (Déri Múzeum) – Kiss, Viktória (Institute of Archaeology Research Centre for the Humanities ELRN): An isotopic perspective on "mobility" during the 3rd and 2nd millenium BC in Hungary
Hajdu, Tamas (Eötvös Loránd University) – Szeniczey, Tamás (Department of Biological Anthropology, Faculty of Science, Eötvös Loránd University) – Fülöp, Kristóf (Research Centre for the Humanities, Institute of Archaeology) – McCall, Ashley (Independent Researcher) – Horváth, Anikó – Palcsu, László – Major, István – Molnár, Mihály (Isotope Climatology and Environmental Research Centre, Institute for Nuclear Research, Debrecen) – Dani, János (Déri Museum, Debrecen) – Kiss, Viktória (Research Centre for the Humanities, Institute of Archaeology): Transformations of populations and lifestyle in the 2nd millenium B.C. in the Great Hungarian Plain – A bioarchaeology project
Melis, Eszter (Institute of Archaeology, Research Centre for the Humanities, ELRN): Women's Identity and Status within the Early and Middle Bronze Age Inhumation Burials from Western Hungary
Pető, Ákos – Braun, Ádám (Hungarian University of Agricultural and Life Sciences) – Dani, János (Déri Museum, Debrecen) – Kulcsár, Gabriella (Eötvös Loránd Research Network, Research Centre for the Humanities, Institute of Archaeology): Complex paleoenvironmental studies of kurgans in the Carpathian Basin
Röpke, Astrid (Ur- und Frühgeschichte, Universität zu Köln) – Kovács, Gabriella (Hungarian National Museum, Budapest) – Fischl, Klára (University of Miskolc) – Pető, Ákos (Szent István University) – Kienlin, Tobias (Ur- und Frühgeschichte, Universität zu Köln): Household activities as seen by floors– A comparison of two Bronze Age tell sites in Hungary
Szabó, Nóra (ELKH BTK; ELTE BTK): Consciousness, complexity, symmetry. Spatial analysis of a Bronze Age settlement
Szeniczey, Tamás (Department of Biological Anthropology, Institute of Biology, Eötvös Loránd University, Budapest) – Melis, Eszter – Köhler, Kitti – Kiss, Viktória (Institute of Archaeology, Research Centre for the Humanities, Eötvös Loránd Research Network, Budapest) – Major, István – Horváth, Anikó (Isotope Climatology and Environmental Research Centre, Institute for Nuclear Research, Eötvös Loránd Research Network, Debrecen) – Kiss, Krisztián (Department of Biological Anthropology, Institute of Biology, Eötvös Loránd University, Budapest; Department of Anthropology, Hungarian Natural History Museum, Budapest) – Gémes, Anett (Department of Biological Anthropology, Institute of Biology, Eötvös Loránd University, Budapest) – Jakab, Július (Institute of Archaeology, Slovak Academy of Sciences, Nitra) – Hajdu, Tamás (Department of Biological Anthropology, Institute of Biology, Eötvös Loránd University, Budapest): Continuity and/or immigration? – Biological connections of Early and Middle Bronze Age populations in the northwestern part of the Carpathian Basin
Poszter:
Gémes, Anett (Department of Biological Anthropology, Institute of Biology, Eötvös Loránd University, Budapest) – Mester, Edit (Kiss Pál Museum, Tiszafüred) – Dani, János (Déri Museum, Debrecen) – Szeniczey, Tamás (Department of Biological Anthropology, Institute of Biology, Eötvös Loránd University, Budapest) – Kiss, Krisztián (Department of Biological Anthropology, Institute of Biology, Eötvös Loránd University, Budapest; Department of Anthropology, Hungarian Natural History Museum, Budapest) – Horváth, Anikó – Palcsu, László – Major, István (Isotope Climatology and Environmental Research Centre, Institute for Nuclear Research, Debrecen) – Kiss, Viktória (Research Centre for the Humanities, Institute of Archaeology, Budapest) – Hajdu, Tamás (Department of Biological Anthropology, Institute of Biology, Eötvös Loránd University, Budapest): Infectious disease at the Middle Bronze Age settlement of Tiszafüred (Eastern Hungary) – A case study